At TIVOL, we are always trying to stay ahead of the curve, keeping our inventory filled with the latest designs and fashion trends. That is why we adore Italian designer Marco Bicego! The brand's core collections are continuously being expanded upon, whether that entails adding color with gemstones or adding a bit of sparkle with pave or rose-cut diamonds. The aim is to always create something that is both modern and yet incredibly wearable. With each piece Marco Bicego creates, he envisions a woman pairing it with either a cocktail dress or a simple white t-shirt – it's important that it strikes that perfect balance as his pieces are meant to be worn every day, not hidden in a jewelry box awaiting a special occasion.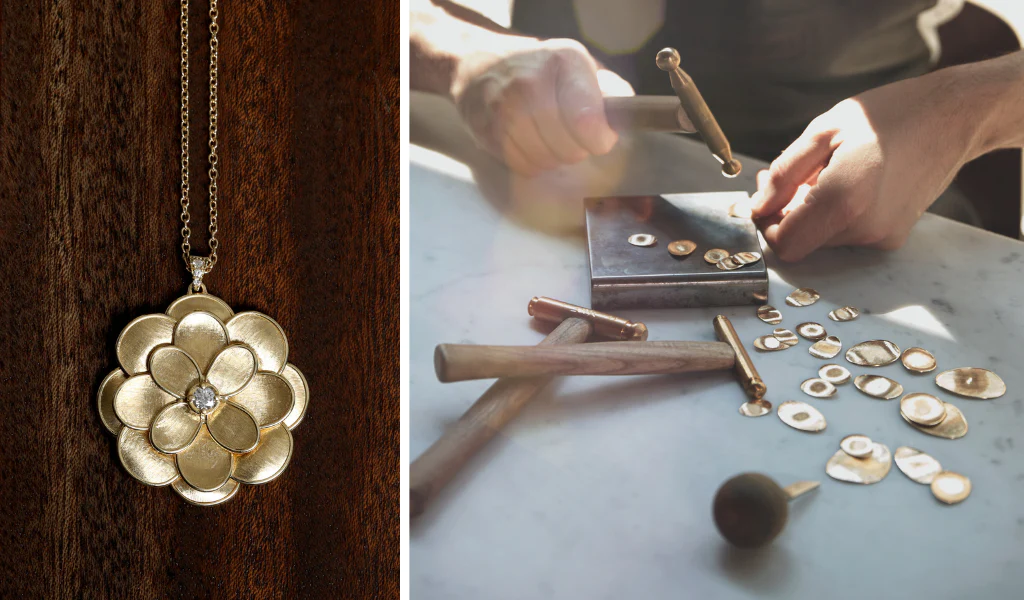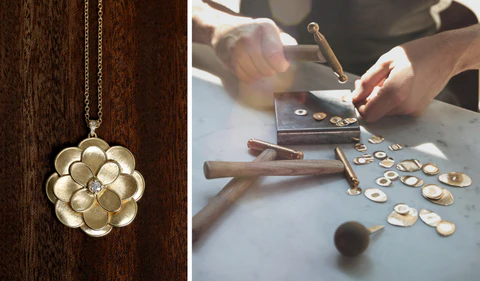 Since 2000 Marco has incorporated the traditions and virtues passed down from his father to create jewelry that embodies the luxury of Italian craftsmanship and contemporary design. Bicego said in The Jewelry Editor Magazine, "Craftsmanship is fundamental for me and for the brand. What has never changed and never will is that each and every piece of Marco Bicego Jewelry is crafted by hand by my artisans in our headquarters." Every piece of Marco Bicego jewelry is handcrafted at their Trissino headquarters in the Veneto region of Northern Italy. Trissino has been dubbed the gold capital of Italy.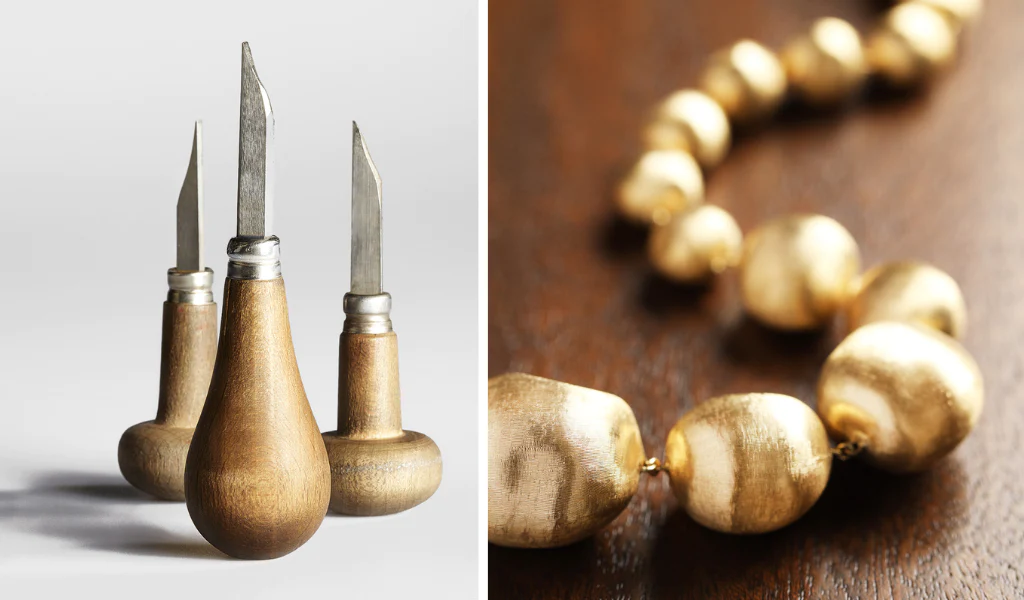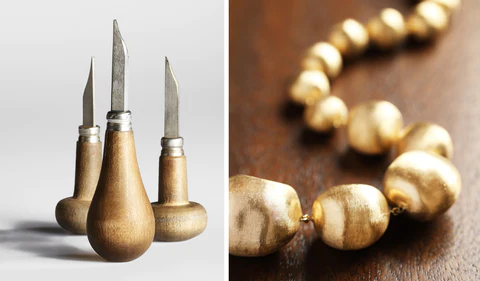 Because Marco Bicego jewelry is hand-crafted by goldsmiths, there is a unique, personal quality in every piece created. Their goldsmiths use a Bulino tool to engrave hundreds of tiny lines on the gold's surface. A Bulino is an ancient tool devised for the art of hand carving which gives gold a fine, brushed texture. This technique gives every piece of jewelry that special one-of-a-kind feeling and sets Marco Bicego's designs apart from other Italian designers, making his pieces truly recognizable.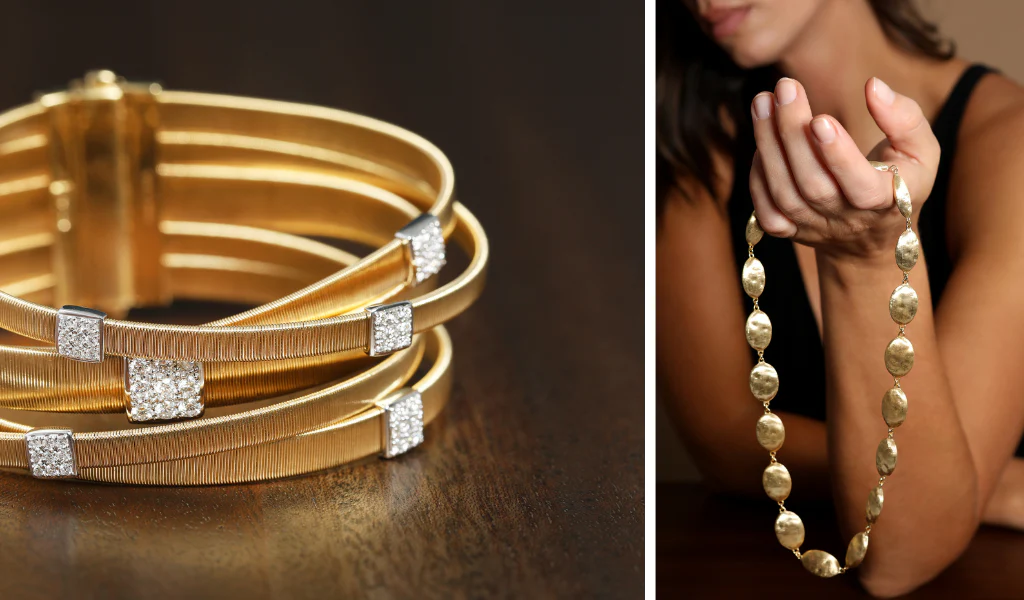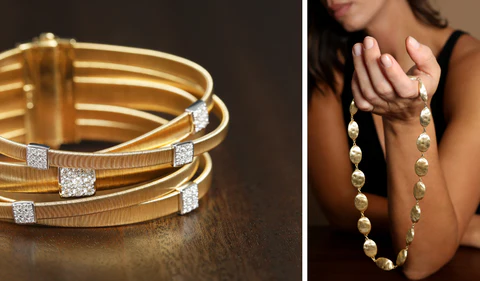 The hand twisted coil is a signature technique of Marco Bicego, bringing a contemporary "twist" to the timeless elegance of gold. The inner coil is the key to the luxuriousness of our hand twisted designs, made from a thick strand of gold which is then tightly wound with 18K gold "thread" into various shapes and finishes. This unique coiling technique can be found in the Masai, Marrakech and Cairo Collections. In the 18K yellow gold Masai Collection diamond bracelet shown above, you can see every intricate coil detail. Marco Bicego says, "My collections stand out for their exclusive manufacturing techniques, passed down to me by my father."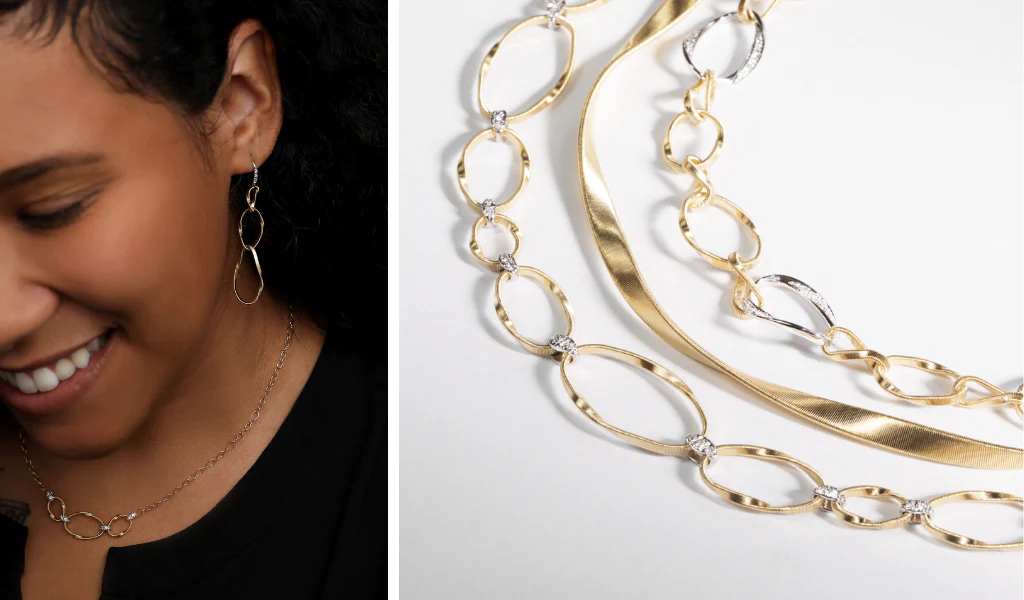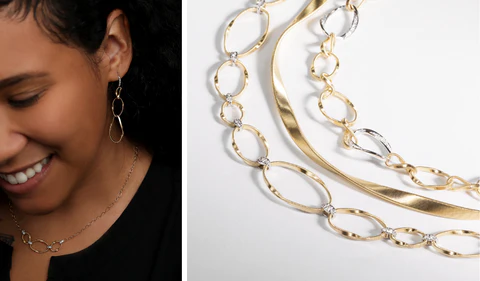 This year marks the 20th anniversary for Marco Bicego. Marco is putting a new twist on one of his favorite coil collections. The new collection is an extension of the Marrakech collection, aptly named Onde (meaning wave in Italian). This modern interpretation features waves of twisting strands of 18K gold in necklaces, earrings, bracelets, and rings. What are some key features of the Marrakech Onde collection? A lighter and thinner twisted coil in 18K yellow gold is forged into deliberately irregular ovals and embellished and interlinked by pavé diamonds. The jewelry is decorated with a flat diamond look, tension twisted strands and diamonds which ride on the waves of fine gold.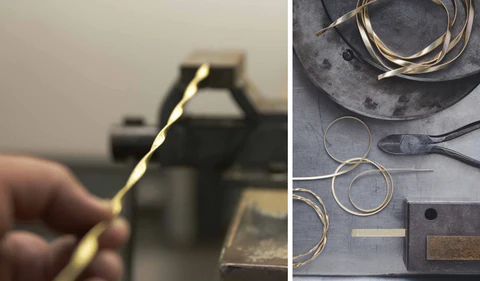 As we've mentioned, Marco Bicego's exclusive coil is a distinctive element of many of his iconic collections. A little-known fun fact is that it was created by accident. Nearly 20 years ago, a machine broke down, causing a gold chain to spiral. Rather than letting the piece be melted, Marco seized on the idea, mastering the unique technique of what is now one of his signature collections.
Marco Bicego's essential and ingenious creativity is brought to life by the skilled hands of a master craftsman and the ingenuity and creativity of the man and designer. TIVOL is honored to carry a large collection of Marco Bicego designs at both of our two locations - at The Country Club Plaza and Hawthorne Plaza. TIVOL also offers the ability to shop online and pick up in-store, as well as curbside pick-up. Come explore the latest designs!