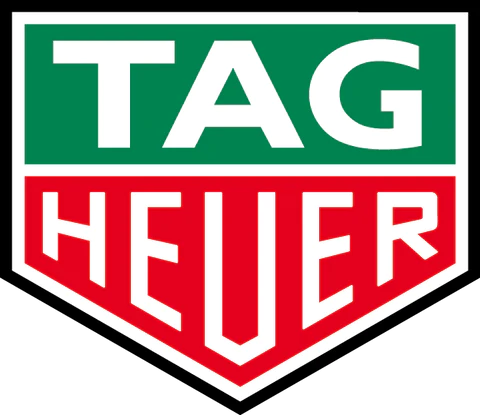 TAG Heuer is known as being one of the best and most well-known designer watch brands available today. TAG Heuer's reputation for quality, durability, and beauty has made these watches a popular gift choice for celebrations, anniversaries, or birthdays. TAG Heuer watches are designed for those who embrace a higher standard of participation in life, and those who are lucky enough to wear a TAG Heuer often walk with a lighter step.
TIVOL is proud to partner with TAG Heuer to offer an amazing collection of men's and women's watches. At TIVOL, you'll find the best in functionality combined with stunning design, clean lines, and eye-catching accents. When you wear a TAG Heuer watch, people notice.
The Beginning
In 1860, Edouard Heuer started making watches when he was only 20 years old. He had a small workshop in Saint-Imier, located in the Jura Mountains of Switzerland. There he tinkered with his watches and chronographs, mechanisms similar to our modern-day stopwatches. In 1864, Heuer merged with the Leonidas watch factory, changing the name to Heuer-Leonidas. He moved with the new company to Biel, and by 1872, they had opened a branch in London.
The company continued to grow, and in 1985, it was purchased by the Techniques d'Avant Garde Group (TAG Group), becoming the company it is today, a well-respected watch manufacturer known for its use of forward-thinking design and sophisticated technology. Currently headquartered in La Chaux-de-Fonds, Switzerland, TAG Heuer has four production facilities and maintains a presence on all continents, selling watches through select retailers.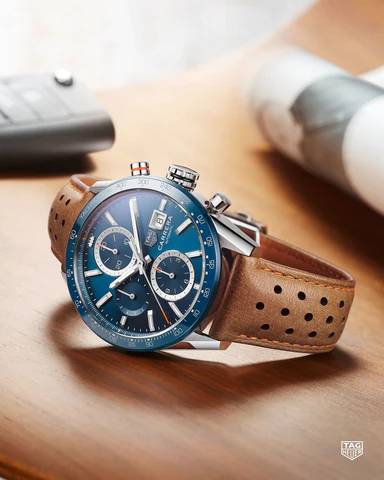 Ambassadors Resonate with the Brand
Three types of ambassadors influence the direction of the TAG Heuer watch manufacturing process. These ambassadors provide inspiration for the style, design, and functionality of each piece. Those who resonate with these personalities are sure to find a watch that speaks to them uniquely.
Heritage: Celebrating the rebels and racers of yesteryear, Tag Heuer watches can be seen on Steve McQueen in the 1971 racing movie Le Mans; on the 1950s Formula One race car dominator Juan Miguel Fangio; and on Formula One driver Ayrton Senna, nicknamed the "King of Monaco" for his six consecutive victories in the Grand Prix. These renegades represent a particular type of individual, one who's confident, cool, and sometimes defiant.
Lifestyle: Lifestyle ambassadors love adventure. They make their own rules and aren't afraid to stand out in a crowd because they know that others aspire to be like them. Australian actor Chris Hemsworth is a TAG Heuer Lifestyle ambassador, a suave and sophisticated super-hero.
Sports: When playfulness meets sheer grit and determination, TAG Heuer is there. The brand inspires - and is inspired by - athletes of all kinds. Tennis players, Formula 1 racers, and hockey players can all be found wearing TAG Heuer watches. The brand calls to those with a competitive spirit.
TAG Heuer at TIVOL
TIVOL carries several collections of TAG Heuer watches. Each has its own personality and style.
TAG Heuer Aquaracer
Sometimes life requires one to go deeper. TAG Heuer patented the first water-resistant watch case in 1895. Since then, those who love the high seas and ocean depths have worn TAG Heuer watches when diving, snorkeling, and sailing. The Aquaracer Collection includes highly functional designs and technology with clean lines and extra safety features like double security clasps and single-direction bezels. Explorers will resonate with the Aquaracer Collection.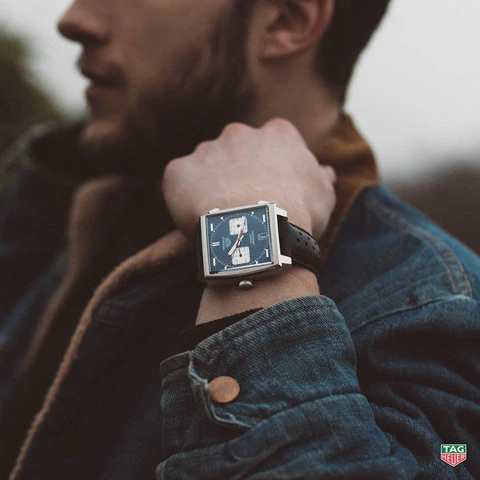 Monaco Collection
The TAG Heuer Monaco Collection includes iconic watches that are exciting, unique, and slightly vintage. The watch that Steve McQueen catapulted into the mainstream in Le Mans in 1971 is part of the Monaco Collection. Those who live life with speed and excitement will appreciate the performance and style found in this collection.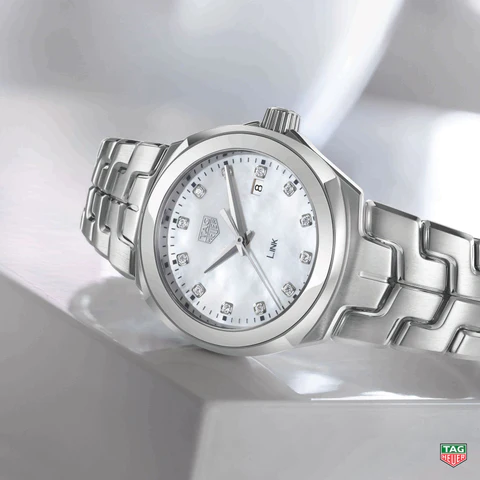 Link Collection
Some people insist on carving their own paths. These individuals demand a watch as sleek and headstrong as they are. The Link Collection is not just functional. It's classy and sophisticated. It's perfect for those who blaze their own trails and want to look good doing it. The Link Collection combines comfort and design for luxurious geometric looks that work with any wardrobe.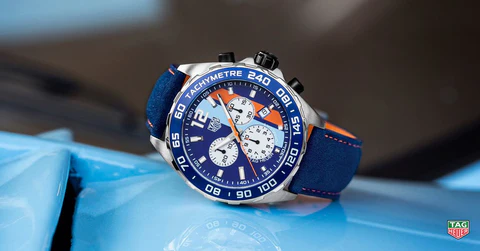 Formula 1 Collection
For those who take life a bit more casually, there's the Formula 1 Collection. Sturdy and functional, the Formula 1 Collection is designed for those who haven't a care in the world. They play hard and bounce back quickly. In this collection you'll find titanium and carbide coated steel, as well as chronographs and rugged good looks.
Social Responsibility
TAG Heuer is part of the Responsible Jewellery Council (RJC). This is an organization that promotes ethics in business, the protection of human and social rights in underdeveloped countries, and supports environmentally safe manufacturing practices throughout the gold and diamond supply chain. This means that from the gold and diamond mines to the watch you purchase at TIVOL, every step of the process is monitored for adherence to RJC standards. The 900 members of this organization believe in this mission, and TAG Heuer is proud to be one of those members.
TAG Heuer is also part of the Kimberley Process Certification Scheme (KCPS). This is a joint government, industry, and civil society initiative to stem the flow of rough diamonds coming from conflict zones as defined by the United Nations. The KPCS guarantees with a certificate that each rough diamond that crosses an international border between two signing countries is "conflict-free." When you buy a TAG Heuer watch, you can be assured that none of the diamonds came from a country involved in armed conflict. Sustainably- and peaceably-sourced diamonds are a trademark of TAG Heuer watches.
Let TIVOL Help You Choose a TAG Heuer Watch
TIVOL offers a vast selection of TAG Heuer watches from the Aquaracer, Monaco, Formula 1, and Link collections. Our professional staff is here to welcome you and help you choose a TAG Heuer that fits your personality and lifestyle. For those who live out loud, there's TAG Heuer.
You'll find TIVOL's flagship store on the Country Club Plaza in Kansas City, Missouri, and a second store in Hawthorne Plaza in Overland Park, Kansas. Visit today to view our TAG Heuer collection.