Perhaps even more important than your wedding day will be your engagement day. There are hundreds of resources out there on how to craft the perfect proposal, and as the ritual becomes modernized, several questions about what's right and what's wrong arise.
Should it be on a trip? Should it be on a holiday? Should I involve other loved ones? How do I know what ring to buy?
The quick answer is simple...
There isn't a wrong move as long as you take time to plan that move.
You'll be able to pull off the perfect marriage proposal by considering the following and crafting your own personalized plan.
Commit to planning out your proposal.
While it is tempting to view a proposal as something that should be spontaneous, you only get one chance to get it right. That is why it is better for you and your nerves to have a plan. Sitting down and plotting out what kind of experience you want to create can calm you and relieve your mind of doubts about the big moment.
With some careful contemplation, you will have devised a proposal plan that will create a perfect defining moment in your relationship as well as giving you full confidence in receiving that "yes."
Take a deep breath, and dive into the possibilities.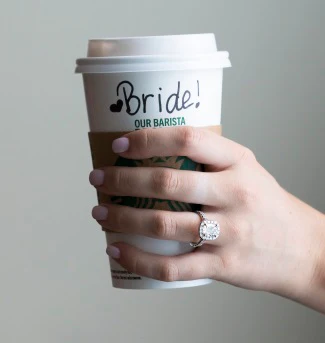 Your first consideration should be when and where you want to propose. Days that already hold special meaning for you and your partner are a good place to start. Birthdays and anniversaries are easy pickings, but holidays make excellent options as well.
Do you two love Halloween? Why not coordinate a special costume party with family and friends?
Or perhaps set your own date within a significant setting that has been most meaningful to your relationship. Was it your first weekend getaway camping in the Smoky Mountains or your first kiss while strolling by the J.C. Nichols Memorial Fountain?
Choose a day and place with sentimental value and meaning.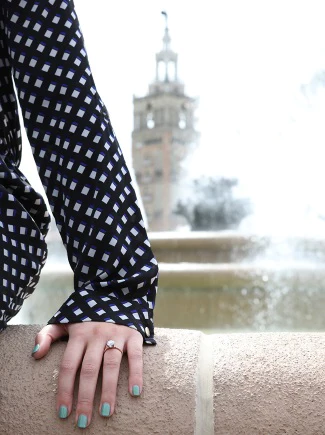 Choosing a location that holds special meaning to your relationship is a wonderful way to solidify your commitment, but there is something to be said for choosing an entirely new place, too. A new location would become the landmark for your engagement and another special place for you and your spouse to revisit and reminisce about in the years ahead.
While researching potential spots, be wary of trendy destinations. If you are reading about the ten most beautiful spots in the world to be engaged according to Condé Nast, realize that place will be loaded with tourists scrambling to say they spent a few days in that year's hot spot. Next year, no one will care, possibly including you and your fiancé. If you choose a new place, make sure it is somewhere you'd like to return to. If privacy is important, make sure your proposal spot is somewhere away from the tourist traps.
Once you've determined when and where to pop the question, then move on to the "how." While some modern engagements have seen couples plan their proposal together, many suitors still prefer to create a romantic surprise. If this is the case, some scheming will be required to get your partner to the destination without raising suspicions. If you are staying local, consider recruiting some friends to entertain your partner throughout the day and bring him or her to the site. If you travel for work, you could stage your proposal destination as a business trip and invite your partner to join you. Be cautious about sharing your plans with everyone. If only a few people are in the know, it's much less likely that someone will spill the beans.
Consider how your engagement day should look.
If it is outside, will the weather be nice during your moment? If not, do you have a Plan B? How should it be documented? You may want to consider hiring a proposal photographer who knows how to capture the moment, whether covertly at the beach or paparazzi-style at a party. In any scenario, you need to figure out how to communicate to your partner about how to dress without giving anything away. He or she might not appreciate your efforts if suddenly surrounded by cocktail-attired friends while still sweating in workout clothes.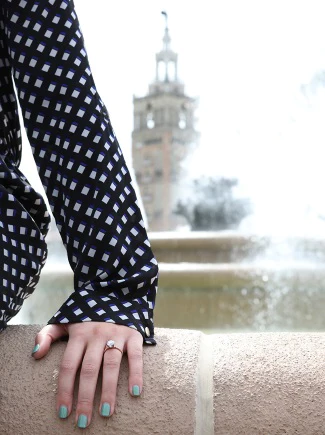 Pick a Ring as Unique as Your Relationship
Engagement rings in Kansas City aren't just about diamonds anymore. Over the last few decades, innovations in materials and design as well as consideration for same-sex marriages have evolved the engagement jewelry world to better express the wearer's individuality as well as the relationship's preciousness.
While all of these actions will speak loudly, you still will need to pop the actual question. By no means do you want to script your proposal, but you should have an idea if you want to address any talking points. Also, if you are proposing in front of a crowd, be ready for some potential stage fright.
Whatever you do, make sure you actually do ask your partner, "Will you marry me?" You need to give your partner a cue to respond. Once you've gotten your "yes" and placed the ring on your fiancée's finger, it's time to go celebrate and tell the folks (that is, if they weren't there to share in the moment).
Remember Your Way is the Right Way
However you design your proposal plan, just remember there is no wrong way as long as it is meaningful to you and your partner. Keeping both of your personalities in mind while planning is key to cherishing the memories you create on your engagement day. Now that you've been given a few prompts, sit down and start dreaming, and then make those dreams come true. Congratulations!
To see a unique and beautiful assortment of engagement rings in Kansas City, come visit TIVOL in the Country Club Plaza and in Overland Park at Hawthorne Plaza.